Is Twitch losing the live streaming wars?
Without a second act, its future may be in peril.
Here's a question I've been asking myself: if Twitch is the shape of things to come for online audiences, shouldn't it be a much, much bigger deal by now?
We can all agree on how Twitch has contributed to the phenomenon of 'watching other people play video games on the internet' and made it a more-or-less mainstream form of entertainment. After making a splash back in 2014 when Amazon bought it for $970 million right from under YouTube's nose (apparently), Twitch has been making headline after headline as it popularized live-streaming.
But where is its second act?
The benefit of being a first mover is time-sensitive and sooner or later competition will pour into the exact market it helped establish. So far we've been told that Twitch has been grossing a lot less than expected: it generated around $300MM in 2019 versus the $500MM to $600MM it had hoped.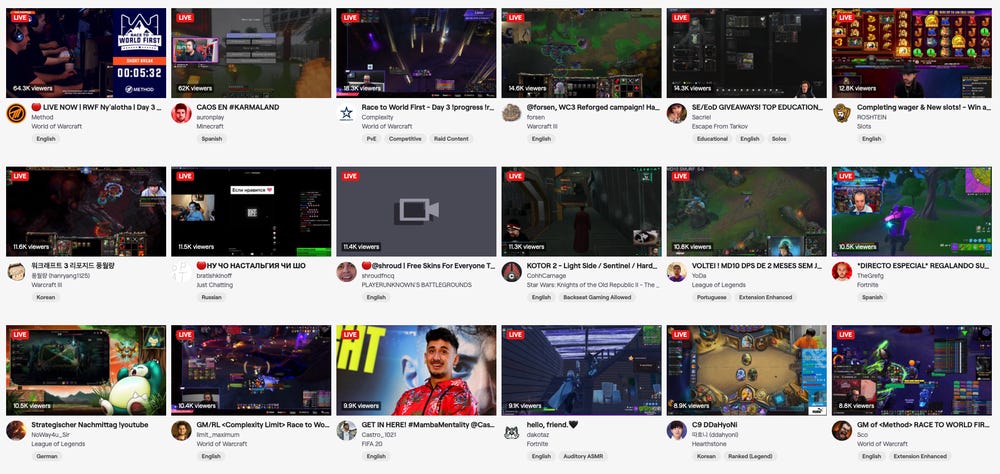 Meanwhile the competition has declared open season. There's a slew of firms aspiring to claim market share in this budding business. And both Google and Microsoft are spending hard cash to pull away Twitch top streaming talent. (More on this below: YT/Call of Duty League.)
Next, Twitch's dependence on a handful of titles is bound to bite it in the a$$. Riot's League of Legends has been an institution on the platform and, in fairness, benefited greatly from the channel for its own popularity. But that kind of co-dependence does not last. Marketers are always looking for an edge and we saw just last year how EA completely missed the boat when its own Apex Legends delivered the same numbers as its blockbuster release of Anthem by merely leveraging Twitch's top streamers. It was a success, of course, but it clearly surprised both Twitch and EA.
And finally, now that live-streaming and gaming video content has started to grow up, the need for more programmatic and scripted content is necessary to attract ad dollars. It is no surprise to me that two former esports execs from Riot and Blizzard have put their heads together to build VENN and become the MTV for this generation of online audiences. Adding insult to injury, VENN not only presents a clear and present danger in terms of content; it also seems to be attracting former Twitch employees. Why leave, if things at Twitch were going so well?
I suspect there's been a lot of fanboyism going on with reams of analytics startups out there whose own success depends on the public API provided by Twitch. Their ability to report on what title or which streamer is the most popular atm depends squarely on Twitch providing access. YouTube isn't quite so generous with free access to its data and does not allow scraping, for instance. This means that Twitch gets more face time with mainstream media and a budding cottage industry of small fry analytics firms happily buff its reach.
Amazon boss Jeff Bezos is fond of saying: "Your margin is my opportunity." Unless he plans to subsidize Twitch and arguably give it the attention it deserves, he's about to find out what it means when others eat into his.
On to this week's update.
NEWS
Video game collectors are seeing dollar signs
Here's a worthwhile article in the NY Times discussing the growing value of vintage games among collectors. Link
Luxury brands find video games
I've written about this recently, and am excited to see how quickly the obvious collaboration between game makers and the fashion industry is developing. Last week the FT ran an article on how luxury brands are "leveling up" by working together and providing custom skins for League of Legends and NBA 2k. Louis Vuitton made a weapon for Qiyana, and watch brand Tissot reported to have sold 113,309 virtual watches in NBA 2K20. The short of it: "Games allow for more interactivity with the product than many forms of traditional advertising." But let's be careful here. Just like traditional IP, just because you can, doesn't mean you should. I'm still unconvinced by Puma's Playseat for "active gamers."
YouTube gets streaming rights to ATVI's OWL
With just two hours to spare before it started, YouTube triumphantly announced that it had acquired the exclusive rights to broadcast the Call of Duty League and Overwatch League.
Despite the terrifying silence around Stadia releases and updates, Google is clearly spending 2020 to go all out and claim a piece of the $120 billion games market.
And while improvements in technology, or in the case of Stadia the growing lack thereof, generally dominate the headlines, it is the content partnerships that will determine the outcome and long-term shape of the industry landscape. (It is remarkable, for instance, that there has been no release of Journey to the Savage Planet, a game from a studio that Google recently acquired.)
The current deal makes sense for both firms: ATVI gains access to a virtually global infrastructure and to establish the largest possible addressable audience, and Google is off to a great start to building strong relationships with content creators which it will need to differentiate as it tries to penetrate the industry via different avenues.
Yeah well what about YouTube?
It is true that gaming is the second largest category on YouTube and that Stadia stands to benefit from having its own massive funnel through which it will drive consumers from watching to playing to spending. The challenge here, however, lies in the fact that its ducks aren't in a row. Most of the games featured at last year's E3 would be instantly de-monetized on YouTube because advertisers don't want to be associated with guns or violence or really anything that isn't Minecraft. This results in few creators taking a chance on making videos and therefore stunting the flow of the funnel.
The likely loser here is Amazon. In the absence of any announcements around a cloud gaming service and the continued uncertainty surrounding titles from its Amazon Game Studios, Google is jumping into the void. The longer Amazon remains on the sidelines of technological shifts in the games business, the harder it will be to capture share down the line. I have no doubt that other publishers will follow ATVI's example.
There are some real long-term ramifications here. One imminent and inevitable negative effect on the games industry is the financial exuberance. Platforms are spending increasing amounts on acquiring companies and content to compile an exclusive offering to differentiate. My expectation is that in the next 18 months we will have a clear decision on who has won the cloud gaming war, and all this money that is currently going around will be going away. It will result in a collapse among creative firms who will find there is no one to acquire them for their content portfolio.
When Facebook overpaid for Oculus a few years ago I instantly became the resident naysayer on the technology. Since then, I've somewhat changed my tune. But that does not change that the Zuck tried to leverage the shine of a new gadget to re-affirm his firm's ability to innovate. Instead, we saw a mediocre content portfolio that overstated the promise of VR entertainment and effectively put the technology back several years. It is only now that VR is slowly starting to accommodate consumers by removing hardware barriers and serving up immersive content that impresses, but not after first decimating its own chances of success by overpromising and under-delivering. The anxiety here is that Google, in its ambition to elbow its way into interactive entertainment is accomplishing the same.
Finally, it turns our attention to Microsoft and its plans for 2020. It already strengthened its partnership with SK Telecom earlier this month, and many are waiting to see how xCloud and the new Xbox Series X will formulate an answer to Google's early release of Stadia.
One overlooked component to all this is the inevitable drive of major tech and platform firms toward recurrent revenue models. Apple, Amazon, Sony, and Microsoft are all looking to boost their valuations by growing their exposure to subscription-based services. Each of them have committed themselves to rolling out more services and investing in content accordingly. Put differently, you have to wonder whether all this activity around live streaming and cloud gaming is taking place in response to roaring consumer demand or because of a financial finesse that seeks to optimize shareholder value.
What I'm looking for is the initial milestone of 1 million paying subscribers. Sony, despite having acquired OnLive and GaiKai a decade ago, only recently reported having 1 million subscribers worldwide to its own cloud gaming service, PlayStation Now. That's remarkably low for an incumbent, especially the firm that won the console wars, and represents under 1% of its worldwide install-base. If Google can accomplish that, it has a real chance of claiming share in a market that it does not know much about. At first sight, however, Stadia is leagues away from any of that.
Ndemic Creations releases statement on Corona virus
Having established themselves as an evergreen title on mobile, Ndemic's Plague, Inc. is getting a lot of unwanted attention as a result of the recent outbreak. According to the statement: "Whenever there is an outbreak of disease we see an increase in players, as people seek to find out more about how diseases spread and to understand the complexities of viral outbreaks." Link
MONEY, MONEY, NUMBERS
Microsoft (MSFT) reported its financials earlier this week and gaming is down -22% y/y, driven disproportionately by a third-party title, which is CFO code for Fortnite. It does put pressure on MSFT's recent spending spree and acquisition on several studios to obtain exclusive content for its upcoming Xbox Series X and xCloud release. What's most exciting is the growing popularity and growth of its Game Pass. According to Nadella: "Xbox Game Pass subscribers more than doubled this quarter."

Activision Blizzard (ATVI) is reporting earnings on Feb 6, and all eyes are on Call of Duty Mobile. (Disclaimer: I hit the level cap of 150 weeks ago, have a K/D ratio of 3.38, and have so far spent about $75 on it. Yup. Judge away.) The device-level data I pulled shows a steady player base: a relentless release of new features and playmodes indicates that ATVI has successfully incorporated the lessons it's learned from Candy Crush and well on its way to become a legacy publisher that figured out mobile. Nevertheless, Wall Street is expecting $2.7bn in net bookings (down -6%).

TakeTwo Interactive Software (TTWO) is reporting on Thursday 2/6 as well and has been bragging about the combined 150MM units sold between GTA V and RDR2. It's well-deserved, obviously. I expect overall earnings to come in higher than Wall Street seems to think (~$900MM/down -43% for the quarter) because, well, TTWO has added casino elements to many of its games to optimize for monetization as its leading franchise is reaching its golden years. NBA 2K has been picking up a lot of slack, and we should expect to see more from the cross-pollination between sports and video games in 2020.

Zynga (ZNGA) has been doing well due to the success of Merge Dragons! and Empires & Puzzles. Despite the size of the franchise, Game of Thrones Slots, only marginally contributes to ZNGA's revenue ($2-2.5MM/month), proving that big IP doesn't always bring great riches and that original content may be slower but more profitable in the long run.

Glu Mobile (GLUU) is scheduled to report on Tuesday. Its reliance on Design Home, which earned it an estimated $45MM in 19Q4, is persistent and even the reboot of a casual favorite, Diner DASH Adventures, has not managed to broader its audience's scope. With the Q1 release of Disney Sorcerer's Arena, Glu is hoping to offset the overall drag it has been experiencing and lighter their outlook for 2020.

Electronic Arts reports later today.