Discover more from SuperJoost Playlist
A weekly take on gaming, tech, and entertainment by business professor and author, Joost van Dreunen.
Over 8,000 subscribers
The Nexon sale
A rare opportunity to buy a business that has several fat years ahead of it.
It has been an unusually busy first quarter.
Since the start of the year there's been turmoil on various levels of the industry. At a high-level we're seeing the interchange between an accelerating momentum behind industry consolidation and the deterioration of traditional gate-keeping that, so far, has resulted in some novel breakouts.
Entertainment at large appears to be going through a transition as now telecom firms are inserting inserting themselves to acquire first content and then users. I can't wait to see what horrible standardized vanilla flavors they'll come up with after checking their spreadsheets.
Similarly, EA accidentally got something right (see below), which is refreshing and tells you exactly how little control even the biggest publishers in the business have. Big boats sink, too. In the midst of this we see the obvious contribution made by gaming video content as tastemaker du jour, and having effectively done away with traditional game journalism and reviews.
The games industry thrives during moments of upheaval and historically responds with ingenious innovative solutions. We're off to a great start. Let's see who manages to stay in the race.


BIG READ: The Nexon Sale
Before it's even happened the sell-off of Nexon by its founder and majority shareholder Kim Jung-ju is already among the biggest deals in gaming this year. And since even Tencent has made a public bid to acquire South Korean publisher Nexon, it is now a seller's market. A few things are driving the frenzy.
First, Nexon is currently printing money in China. Especially considering the challenges both domestic and foreign publishers are experiencing there now because of the massive backlog in approved titles, that is a valuable proposition. Its marque title Dungeon Fighter Online generates close to $150MM a month, up +56% from two years ago.
Second, Nexon presents a rare opportunity of being able to buy a business that has several fat years ahead of it. In a market that is consolidating, there are few cases where you can outright purchase a massively profitable company. Private equity funds everywhere are salivating, I'm sure (gross).
So why would Kim Jung-ju want to sell? The obvious conclusion is that a human can only need so many billions. He's already stated that he's not passing Nexon down to his kids and has been increasingly involved in philanthropy in recent years. Even spectacular success gets boring. Moreover, Jung-ju's expectation of the games market is rather bearish. Part of his rationale has to do with an outlook on the industry's future that is bleaker than most.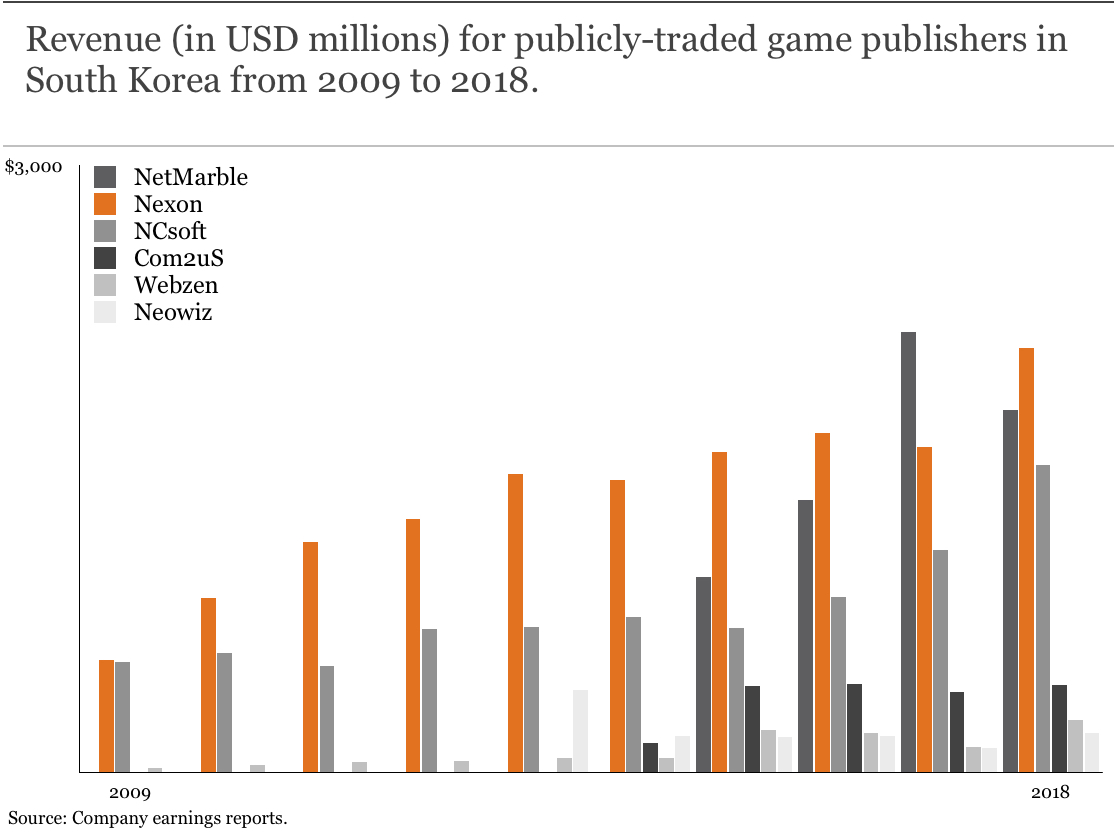 That may very well have to do with the fact that it has been very difficult for South Korean firms to grow revenue internationally. Historically firms like Nexon and NCSoft generate only about 15% of earnings outside of their domestic market. Even NCSoft's global push proved more difficult than expected, and it is currently in the process of laying off a bunch of people at ArenaNet's Bellevue office.
Next, domestically it has not managed to do as well in mobile. Based on mobile games revenue Nexon is number three in the market compared to its rivals NCSoft and Netmarble. Especially the latter has managed to catch up: Netmarble generates about the same annually in PC revenues but has roughly doubled in the past few years while Nexon's growth has been much slower.
The frenzy that this has started is unique in that it involves so many different firms. Tencent is obviously looking to lower its royalties and gain control over a high-performing title in the Asian market. EA is likely evaluating an offer as part of a broader entry into Asia, although it will have a hard time explaining to shareholders why it would need to borrow $9bn or so when its current portfolio titles like Anthem isn't exactly blowing people away.
Of particular interest is the apparent involvement of Comcast as one of the potential buyers. You have to wonder what's a US-based telecom company is doing buying a South Korean game company. Comcast has been dabbling in gaming for a while but it is a deviation to pursue an unlikely acquisition target so publicly. Given Nexon's profitability it probably makes sense for Comcast from a numbers perspective, and certainly it would learn a lot. Comcast has been friendly with EA for a while now, so it seems that a combined purchase would allow EA to claim Nexon's IP and leverage it in North America and give it access to Asia. Comcast would get a frontrow seat, ostensibly, and build its "gamer-grade Internet" under the Xfinity brand.
Regardless of who buys it, Kim Jung-ju has done an admirable job of creating a red hot market. Amidst the broader layoffs and somber consolidation taking place, the Nexon Sale will likely be a highlight this year.


On to this week's update.
NEWS
HBO's new leadership, Plepler departure
Known for his winged phrases like "More isn't better. Only better is better.", HBO's CEO Plepler is leaving the firm after 27 years. Key to his tenure was the period between 2007 and 2012 when he laid the foundation for quality programming. Right as online video came into vogue, Plepler pushed for high production values at the center of HBO's offering. When I met him briefly a year ago, the big elephant in the room was (and continues to be) what to do about Netflix. Plepler seemed unphased, and argued that Netflix had a different 'brand promise' than HBO. He said something along the lines of: "When you go on Netflix, the expectation is that there will be something to watch there for you. When you go onto HBO, you're looking for something specific."
I have to agree. Content is a spectrum and audiences want different types, styles, and quality. Plepler's push to make HBO a premium destination worked fantastically: counting over 5MM subscribers, HBO annually generates around $6bn in revenue, $2bn in profit, and spends about $2.5bn in content acquisition. In particular that last bit is something to marvel at, since it is only a fraction of what Netflix and Amazon spend on new shows and films.
In fairness, I'm not particularly excited about GoT's last season. It's been too long and it lost its edge in favor of emulating what can only be described as adult Harry Potter-ish drama. However, I believe that Plepler's departure is symbolic of a media industry that is consolidating and at the dawn of a new era. After a string of acquisitions by 'dumb pipe' companies in which content and IP were critical differentiators, content is now likely to be pimped out than celebrated. You know, to justify all that acquisition spending. I'm sure HBO has another blockbuster in the works that will keep its momentum for now. But the obvious strategy here is to scale HBO's content and to sell a few more data plans. Not all content wants to be scaled. Link
Apex Legends got its work cut out
Here's something Ninja and I have in common: we're both clearly relieved to take a break from Fortnite and instead spend most of our day with Apex Legends. After the marketing dollars ran out, Ninja continued streaming the game which suggests that he likes it--it certainly is a strong endorsement. My guess is that after playing Fortnite for 14 hours a day for the past two years, Ninja wanted a break. (Can you imagine?)
Where Fortnite had grown-ups everywhere baffled and thrust Epic onto a global stage seemingly out of nowhere, Apex Legends offers a different set of obvious questions. Specifically, does the game's success mean that EA is in the clear?
It sure has been getting hammered with poor reviews on its Anthem release, and a host of people are comparing Anthem to Mass Effect: Andromeda. That's not entirely fair, of course, because the latter had to deliver on exceptionally high expectations following the first three installments. However, seeing how much effort EA has made to promote both Anthem and ME: Andromeda leading up to launch, and comparing that to the success of Apex Legends, it is clear that EA is still wrestling to meet current market demand. Both Anthem and ME: Andromeda are big releases that, despite a sincere development and marketing effort, met a lukewarm response; Apex Legends was never a priority for EA (judging from the total lack of marketing effort pre-launch) and that was a breakout hit.
For now it appears that Apex Legends has bought EA respite from the merciless share value decline we see happening to ATVI and TTWO.
Spielberg is losing his mind
One of the recurrent topics in my weekly class has to do with the mental inertia among decision-makers in the face of change. Last week, for example, we discussed GameStop's fundamentalism vis-a-vis the rise of digital distribution when it accidentally fooled itself in 2006 and said that it didn't see "digital downloading as a threat to our business." That statement didn't age well.
Following Netflix' success at the Oscars, Steven Spielberg is now campaigning to exclude streaming content from the Academy Awards. He doesn't think that it's the same thing and, in fact, wants Netflix barred from the event altogether. Never mind that streaming is one of the most best ways for people to access content and has created a momentum on its own as Netflix, Amazon, HBO, and Hulu all compete over content. The only recent innovation in cinema I can think of is Moviepass and that was a sh!tshow.
This leaves us with (1) excluding streaming from the Oscars and thereby reducing its overall cultural relevance now that Netflix movies have started to rack up awards, or (2) adapt to the new environment and break tradition with the long and rich history of people resisting change. Even with the ratings up +12% this year, a rigid approach to innovation and changing consumer behavior risk the Oscars becoming a mere stepping stone than a lifetime achievement. Link
Esports shmoney
The last few weeks we've seen a bunch of money events around esports properties. G2 Esports raised $17.3MM to fund its global expansion, and Super League Gaming went public by selling 2.3MM shares at $11 a pop. Up top there was FIFA announced the FIFA eNations Cup, and Blizzard has been bragging about reaching 13MM people (+30% y/y) during the opening week of the Overwatch League's second season.
It certainly suggests that esports is experiencing an upswing. Even so, I would like to reiterate my earlier request to be shown the proverbial money.
RIGHT QUICK TIDBITS
Horizon: Zero Dawn sold 10 million copies worldwide

Playrix is for sale for $3bn

Resident Evil 2 shipped 4 million units worldwide since launch

Microsoft is set to unveil the next installment of the Halo franchise at E3

The FTC is organizing a loot box workshop